Free Trees
Residents in Broxtowe can apply for one of 800 free trees
Free Trees
Following its previous success, we are running our free tree giveaway again this year, with more trees to give away than ever before.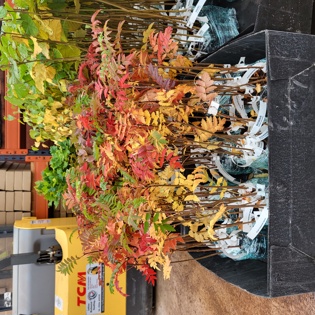 800 UK native trees, including Rowan, Elder, Spindle and Silver Birch are on offer to Broxtowe residents.
These species have been chosen as they are beneficial to local wildlife and great for pollinators. They are also native to the UK, grown and supplied from a UK nursery. The trees will be provided in biodegradable bags (which will need to be removed before planting) and are suitable for planting in a large pot. Instructions on how to plant these trees will be included. They will be delivered using our fully electric fleet vehicles.
To register your interest:
Make sure you are signed up to Green Rewards via the official website.
You can download the Green Rewards app by searching for 'Notts; Green Rewards' in the app store or access it through your desktop (Opens in a new window).
You must be an active Green Rewards member and log your actions at least once a month to qualify.
When you apply, please use the same email you use for your Green Rewards account and type it in carefully.
Complete our online application form (Opens in a new window). Only applicants who complete the application form AND are an active Green Rewards member that logs their actions monthly will qualify.
Green Rewards is a free platform which can be accessed via app or desktop and whilst using it users can accumulate points for recording sustainable actions and these points can then be exchanged for vouchers and prizes – find out more on our Green Rewards webpage and watch the video below on how to sign up:
We would kindly ask that if you have previously received a free tree from us, that you please do not apply again to allow other residents the chance to get a free tree.
---
Terms and Conditions
Only one tree will be allocated per postal address.
Whilst we will endeavour to provide you with the type of tree you have requested, we cannot make any guarantees.
The trees will be between 10cm and 50cm in height depending on the species, with the roots contained in a small bag.
Unfortunately, due to the expected volumes of applications, we will only be able to contact you if you are successful.
The offer is only open to individuals. If you are a community group and interested in tree planting, please contact us and we can see if there are possible projects we can work together on.
Collection and use of data (for Green Rewards members)
The data we collect and the ways in which we use it are set out in our Privacy Policy, which forms part of these Terms and Conditions.
Any information collected from you will be treated in accordance with the General Data Protection Regulations (2018).
---
---