Charities
Information about the Mayor's chosen charity and how you can support her fundraising efforts.
The Mayor of the Borough of Broxtowe (2020/21), Councillor Janet Patrick, has chosen to support Citizens Advice Broxtowe during her civic year.  We hope everyone will join her in raising funds for this important charity through a series of fundraising events.

Citizens Advice Broxtowe
Citizens Advice Broxtowe is an independent local charity and member of the Citizens Advice service.    
The charity's objective is to provide free, independent, impartial and confidential advice. Serving the people of Broxtowe and ensuring people get the help they need, when they need it. 
In order to deliver that promise the charity provides advice services in person from their locations at the Council Offices in Beeston, the Library and Information Centre in Eastwood and an outreach service at the Stapleford Care Centre. They also provide a telephone advice line.
Each year Citizens Advice Broxtowe helps over 7,000 people with nearly 16,000 problems. The majority of that work is carried out by around 50 volunteers who give their time freely to help some of the Borough's most vulnerable people. They are supported by a team of skilled supervisors and specialist caseworkers who help clients when problems become more complex.
Citizens Advice Broxtowe will help anyone on any matter but most commonly people contact the charity because they find themselves in debt, have problems claiming the benefits they are entitled to or they have a problem with their housing. In a typical year the charity will help people claim benefits due to them totalling £2.5 million and assist people with £16.5 million worth of debts.
When people receive help from Citizens Advice they report feeling less isolated and better supported, it gives them hope for the future and they feel better able to cope with the problems they face.
Citizens Advice Broxtowe also uses the knowledge they gain from their clients to campaign for improvements in services and change laws to make people's lives better and help prevent problems recurring in the future.
Visit Citizens Advice Broxtowe Website (Open in a New Window)
Registered charity number (1077828) 
---
Charity events
Each year the Mayor of the Borough of Broxtowe organises a number of events to help raise money for their chosen charity.  Details of charity events below.
1. Sam & Michele's Big Broxtowe Walk – Saturday 17th April
 2021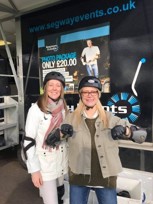 Samantha  Busuttil and Michele Cowlishaw, CAB staff, will undertake a 13 mile walk to raise funds for supporting the Mayor's chosen charity on Saturday 17th April 2021. The walk was postponed due to the national lockdown.
The walk starts at the Beeston CAB Office, waved off by the Mayor of Broxtowe, Councillor Janet Patrick. They will then walk the 3 miles to the Stapleford Office before proceeding along the Erewash Cycle trail to the Eastwood Office. The route will take them past some of Broxtowe's most historic landmarks.
Please support Sam and Michele by donating to the Mayor's Charity using the link below and reference your donation with 'Big Walk'.
Donate to this event(Opens in a New Window)
2. Cycling Challenge January 2020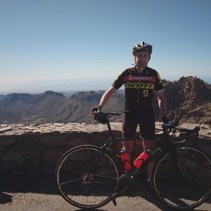 To support and raise funds for the Mayor's chosen charity, Neil Clurow, Development Contractor of CAB Broxtowe is undertaking a ride to the epic climb of Pico de as Nieves in Gran Canaria.
The route is 1,949 meters and is a big challenge for an accomplished rider. The route will take Neil from sea level in Maspalomas through the mountain villages, including Fataga, San Bartolome and past Roque Nublo at 1,813 meters where the road is at its steepest.
Cycling to the peak and back represents 60 miles of cycling with a total elevation gain just under 3,000 meters. The ride will take place on Friday 22 January subject to weather conditions.
Please support Neil by donating to the Mayor's Charity using the link below. Remember to add your name or business name and reference your donation 'Pico'
Donate to this event(Opens in a New Window)
3. Broxtowe Charity Bake-a-long
On Thursday 14th January 22 participants joined the Broxtowe Charity Bake-a-long for a fun packed evening with Star baker, Howard Middleton, and raised £800 for the Mayor's charity. 
The bakers were guided expertly by Howard of Bake Off series 4 fame. Participants baked with him and closely followed his instructions. All managed to make the Jammie dodgers. The bakers were given insights into Howard's experience in the Bake Off tent and debated the important topic of whether a Jaffa cake is a cake or a biscuit.
The Mayor of Broxtowe had to base her decision on photographs to judge the bake. She chose Alison W's jammie dodgers " because they used their imagination, were generous with the jam and were evenly baked.
---
Support the Mayor's charity
As well as attending the charity events listed above, you can also show your support to the Mayor's charities by organising your own event and getting your friends and colleagues to sponsor you.
Make a donation
If you are unable to attend one of the Mayor's charity events, you can still make a donation the chosen charities by making your cheque payable to 'Broxtowe Borough Council - Mayor's charities' and returning it to the Civic Office, Broxtowe Borough Council, Council Offices, Foster Avenue, Beeston, Nottingham, NG9 1AB. or visit the online giving page specific to the Mayoral charity campaign and make a donation.
Supporting other charities
The Council realises you may choose to support different charities, which is fantastic. The Council get lots of requests to promote these individual efforts but it is difficult to promote them all.
In order to be fair to the widest range of charities, the Mayor each year chooses different charities to support and in that year of office these are the charities the council will adopt and promote.
This enables the Council to support a diverse range of charities and give us all the opportunity to maximise on the fundraising.
---
---