Charities
Information about the Mayor's chosen charity and how you can support his fundraising efforts.
The Mayor of the Borough of Broxtowe (2023-202), Councillor David Grindell, has chosen to support Beeston Community Resource CIO charity who manage The Middle Street Resource Centre (MSRC) in Beeston during his civic year.  We hope everyone will join him in raising funds for this important charity through a series of fundraising events.
Beeston Community Resource CIO Charity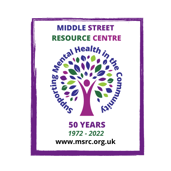 David has chosen to support Beeston Community Resource CIO charity who manage The Middle Street Resource Centre (MSRC) in Beeston as his chosen charity for his Mayoral year. Middle Street is celebrating its 50th year of supporting mental health in the Beeston community.
As a community venue with a focus on mental health support, MSRC reflects a shift toward a more open and integrated approach to mental health. The café and gardens are open to the public from Monday to Friday and there is a variety of support and social activities available to people.
Throughout the year there will be several events to celebrate and raise funds.
If you would like any more information you can contact Middle Street Resource Centre via admin@beeston-community-resource.org or 0115 9252516.
Visit Beeston Community Resource CIO Charity website (Open in New Window)
Registered charity number (1160885)
---
Charity events
Charity Bike Ride - CANCELLED - Look out for new date coming soon.
The Mayor's Charity Bike Ride will be taking place on Saturday 11 March 2023.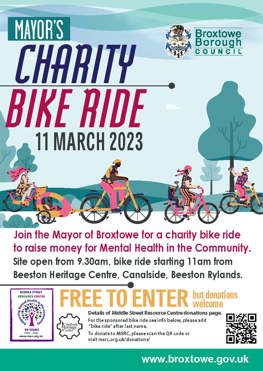 Join the Mayor of Broxtowe for a charity bike ride to raise money for Mental Health in the Community. The site will be open from 9.30am, with the bike ride starting at 11am from Beeston Heritage Centre, Canalside, Beeston Rylands.
The ride is free to enter, but donations welcome (Opens in a New Window).
Support the Mayor's charity
Make a donation
If you are unable to attend one of the Mayor's charity events, you can still make a donation to the chosen charities by making your cheque payable to 'Broxtowe Borough Council - Mayor's charities' and returning it to the Civic Office, Broxtowe Borough Council, Council Offices, Foster Avenue, Beeston, Nottingham, NG9 1AB.
Supporting other charities
The Council realises you may choose to support different charities, which is fantastic. The Council get lots of requests to promote these individual efforts but it is difficult to promote them all.
In order to be fair to the widest range of charities, the Mayor each year chooses different charities to support and in that year of office these are the charities the council will adopt and promote.
This enables the Council to support a diverse range of charities and give us all the opportunity to maximise on the fundraising.
---
---