Charities
Information about the Mayor's chosen charity and how you can support his fundraising efforts.
The Mayor of the Borough of Broxtowe (2021-2022), Councillor Richard MacRae, has chosen to support Broxtowe Youth Homelessness during his civic year.  We hope everyone will join him in raising funds for this important charity through a series of fundraising events.
Broxtowe Youth Homelessness

Homelessness happens to ordinary people and it can be devastating to the lives of those who experience it. There are long-term consequences beyond housing: physical and mental health, financial stability, education, employment and self-esteem are all affected… At BYH, we work tirelessly to mitigate the impact of youth homelessness throughout Nottinghamshire and Derbyshire. The project provides support for young people aged 16-25 years old who have experienced homelessness or are at risk of homelessness. We aim to prevent homelessness in the first instance, however when this has not been possible we offer the help they need to rebuild their lives and empower them to successfully move on from homelessness.
Visit the Broxtowe Youth Homelessness website (Open in New Window)
Registered charity number (1061494)
---
Charity events
Each year the Mayor of the Borough of Broxtowe organises a number of events to help raise money for their chosen charity.  Details of charity events will be updated soon.
The Mayor's Charity Bike Ride 
Date: Saturday 25 September 2021 at 11.00am. 
Startin

g at Canalside Heritage Centre, Weir Cottages, Canal Side, Beeston, Nottingham NG9 1LZ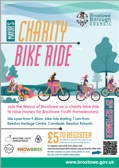 The Mayor of The Borough of Broxtowe, Councillor Richard MacRae is embarking on a charity bike ride commencing from The Heritage Centre, Canalside, Beeston and heading out along the canal path to Notts County Football club and back again. The aim is to raise as much money as possible for his chosen charity which is Broxtowe Youth Homelessness who work tirelessly to support young people facing homelessness and in crisis having already become homeless. 
To join the bike ride go to: www.broxtoweyouthhomeless.org.uk/charity-bike-ride
For enquiries, please contact Broxtowe Youth Homelessness at 01159396760 or by email: enquiries@broxtoweyouthhomeless.org
Support the Mayor's charity
As well as attending the charity events, you can also show your support to the Mayor's charities by organising your own event and getting your friends and colleagues to sponsor you.
Make a donation
If you are unable to attend one of the Mayor's charity events, you can still make a donation to the chosen charities by making your cheque payable to 'Broxtowe Borough Council - Mayor's charities' and returning it to the Civic Office, Broxtowe Borough Council, Council Offices, Foster Avenue, Beeston, Nottingham, NG9 1AB.
You can also donate via the following link.   
Supporting other charities
The Council realises you may choose to support different charities, which is fantastic. The Council get lots of requests to promote these individual efforts but it is difficult to promote them all.
In order to be fair to the widest range of charities, the Mayor each year chooses different charities to support and in that year of office these are the charities the council will adopt and promote.
This enables the Council to support a diverse range of charities and give us all the opportunity to maximise on the fundraising.
---
---