Email Me
Sign up to our email me service to get updates and information on the services that are important to you, all direct to your inbox.

Receive the latest updates about news, events, Council services and more straight to your inbox
You can sign up for email updates on selected topics from the following:
What's On

Jobs

Latest News

Bank Holiday Opening Hours  

Town Centres & Business

Private Sector Housing

LLeisure

Severe Weather

Waste & Recycling

Parks & Open Spaces
As always, we'd love to hear what you think of Email Me - if you want to give us your feedback, contact us. 
---
Have Your Say On Email Me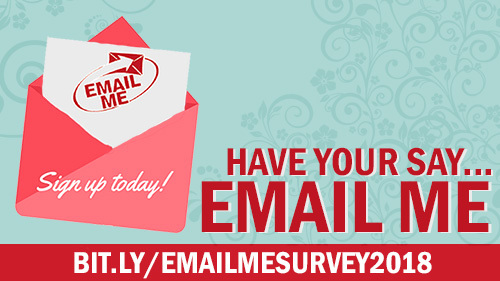 Over 23,000 of you have signed up to our Email Me Service to help keep you updated on Council services, news and events directly.
To help us continually improve the service, we would love to hear what you think, your suggestions for where we can improve, and what other services you would like to see on Email Me.
Your views are important to us and we would be grateful if you could spend a few minutes completing a short survey.
This survey closes on Sunday 20th May.
Complete the Survey online (Opens in a New Window)
---
Use of Personal Data
Email Addresses will be used to keep you up to date with the topics you have subscribed to.

Data will be stored on servers in the US.

Data will be governed and shared by the rules and regulations of the EU-US Privacy Shield. Find out more about the Privacy Shield online. (Opens in a New Window)

Email addresses will be deleted when you unsubscribe but historic data maybe kept.

Email Addresses will be shared with GovDelivery.
---
---