Hate Crime
Information on Broxtowe Borough Council's approach to Hate Crime.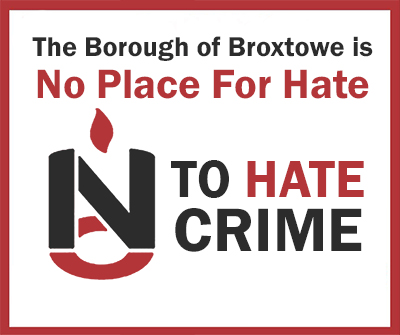 A hate incident is:
"Any incident, which may or may not constitute a criminal offence, which is perceived by the victim or any other person, as being motivated by prejudice or hate."
How to report a hate incident or crime
You can report a hate crime through the organisations listed below:
Broxtowe Borough Council - Through our Equality and Diversity Officer on 0115 917 3712;

In an emergency call the Police - dial 999;

For less urgent reporting, call Nottinghamshire Police on 101 to speak to trained officers in confidence;
How Broxtowe Borough Council Deals with Hate Crime Incidents
Our vision recognises that hate incidents and hate crimes are always serious and can sometimes be life-threatening.  They affect victims, families and the communities they live and work in. We aim to make Broxtowe a safer place to live, work and visit; and we will not tolerate hate incidents and hate crimes, and, we will work together to reduce risk and improve services to victims.
---
---