CCTV Surveillance Systems
The introduction of surveillance systems (CCTV) has been one of the best contributors in the defences against crime. It has been proved effective in both reducing and detecting crime and these systems are valuable tools which contribute significantly to public safety and security in protecting both people and property.

The surveillance systems used throughout Broxtowe form part of the wider crime reduction strategy and images from these systems are continuously monitored at the council's shared communications centre.  The Police work collaboratively with the council and are informed direct of any suspicious incidents as they arise and can be directed to the exact location by fully trained operators.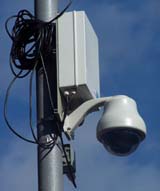 Find out here about:
---
Surveillance Legislation and Guidance
The government's Surveillance Commissioner has set out detailed legislation and guidance for the use of surveillance systems in public areas as detailed below:
For security reasons, the general public are not able to contact the CCTV Control Room direct. However, if you have any questions that the CCTV web page cannot answer, please contact Parking, CCTV & Security Services at Broxtowe Borough Council.

Back to top
Benefits of Surveillance
Better targeting and use of Police resources

Cameras deter criminal activity and disorder

Greater detection of incidents and identification of criminals

Quality evidence - a fearless and accurate witness

Prevention of incidents before they begin

Instant assistance with accidents/people taken ill

A greater chance of finding missing persons quickly

Reduced fear of crime in areas covered by surveillance cameras

A 24 hour continual presence protecting communities
The council takes great care in considering all relevant legislation when carrying out surveillance in relation to public protection and safety; therefore operate in accordance with the following Acts (or regulations within Acts):
More information on how the council collect, store and process the data from the surveillance cameras can be found in The (CCTV) Public Space Camera Surveillance Privacy Notice (.pdf) (148KB) (Opens in a New Window)
The Recording Process
The CCTV Control Room monitors over 40 cameras. The cameras are strategically positioned to ensure effective coverage whilst respecting everyone's right to privacy and minimising the intrusion into public places.Privacy zones are programmed onto the cameras. This is a graphical mask programmed into the camera by the manager, to block out private areas such as flats, offices etc. These cannot be removed unless a request is received from an Assistant Chief Constable and then, they can only be removed by authorised personnel. This helps us comply with the Protection of Freedoms Act.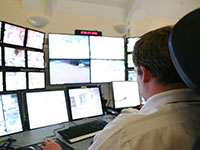 Every camera records 24 hours a day, 365 days a year, using Digital recorders.  This gives us the best possible recording quality.
The town centre cameras are managed under a shared services agreement with Newark & Sherwood District Council, Ashfield District Council and Broxtowe Borough Council - please visit Newark & Sherwood District Council's website (Opens in a New Window) for further information.
If a Police Officer wishes to examine the video footage the council are obliged to facilitate this request, where permitted, permanent copies of stored data will be provided on request in the form of still images or video.  Still images or video footage will be provided to ensure that any collateral intrusion into the privacy of persons other than the subject requesting access is limited.  The procedure for providing images can be found in the council's Code of Practice and Policy for the sharing, disclosure or viewing of obtained or retained images.

Back to top
Requesting Surveillance Footage
You can request images of yourself (subject access request) which have been recorded by the council's surveillance camera systems. However any requests must comply with the Data Protection Act 2018.
To make a request, please  complete a CCTV Subject Access Form (.pdf) (94.8KB) (Opens in a New Window) and send it to Parking, CCTV & Security Services using the contact details on this page. 
If, under the Data Protection Act and Protection of Freedoms Act, we can meet your request there will be a charge to view the footage.  There may be additional charges if we have to obscure images of other people in the film, or for any media supplied such as DVDs.
If you, your car or property have been involved in an incident and you believe this may have been caught on the council's surveillance cameras, you should first report the incident to the Police who should investigate the matter on your behalf.
Your insurance company or solicitor can request access the images using a subject access form if it is in connection with an investigation or court case, however charges will still apply.  We will need the specific information of the incident as below:
Date

Time

Location

Photograph of you (to help us find the images and to identify you in the footage)

Outline of the incident (what happened)
We cannot provide any footage which is part of an ongoing Police investigation. In this case you or your representative would need to contact the Police Officer dealing with the case for authorisation prior to making the request.
It's not always possible to resolve every issue by the use of surveillance systems and in some cases it may not be appropriate to use surveillance systems to achieve an objective.  The council are governed by government policy and guidance, therefore operate is accordance with the Surveillance Commissioners Code of Practice and the recommended 12 Principles of Surveillance.
Registration of CCTV Cameras
There is a legal requirement for organisations that process and collect CCTV images, under the General Data Protection Regulation 2016, to register their premises with the Information Commissioner's Office (ICO).
Most organisations and businesses will be required to pay an annual notification fee of £35 and provide details about the types of personal information they process.
Find out more about the notification process. (Opens in a New Window)
The ICO has produced an online self assessment tool (Opens in a New Window) to help businesses determine whether they need to notify.
Domestic CCTV
The ICO (Information Commissioner's Office) issued revised guidance on domestic CCTV in May 2015.
If someone's domestic CCTV overlooks a boundary onto a road, path or neighbouring property then that person needs to be registered as a Data Controller with the ICO.  The ICO has very recently produced guidance for the public which can be accessed.
---
---