Nuthall Neighbourhood Plan
Nuthall Neighbourhood Plan
Nuthall Parish Council has produced a Neighbourhood Plan for the Parish of Nuthall (see map below).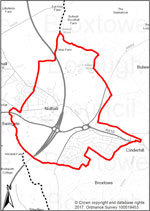 Neighbourhood Area Designation:
Neighbourhood Plan Submission:
Nuthall Parish Council submitted its proposed Neighbourhood Plan to Broxtowe Borough Council on 17 January 2018.   Consultation on the Neighbourhood Plan took place between Monday 26 February and Friday 20 April 2018.
The Neighbourhood Plan and related documents, as submitted, can be viewed below:
The consultation on the Nuthall Neighbourhood Plan is now closed. 
All responses received can be seen here.
Examination
On 31 July 2018, the Neighbourhood Plan was submitted for independent Examination.  The Examiner, Jill Kingaby (BSc (Econ) MSc MRTPI), asked a number of initial questions the responses to which can be found here.
Next Steps
The Examiner will consider whether the Plan meets the basic conditions, either as submitted or with modifications, and will issue a report to Broxtowe Borough Council.
Broxtowe Borough Council will consider any changes and whether to send the Plan to referendum.
 If the Plan is sent to referendum, this will be organised by Broxtowe Borough Council, and local residents will have the opportunity to vote on whether the Plan should be adopted ('made') as the Neighbourhood Plan for the area.
If you require any further information or assistance in relation to the Nuthall Neighbourhood Plan or the Neighbourhood Plan process, please do not hesitate to contact the Planning Policy Team.
---
---