Broxtowe Youth Voice
Broxtowe Youth Council has now been re-branded as Broxtowe Youth Voice.

Broxtowe Youth Voice gives young people in the Borough an opportunity to debate the issues affecting them, including alcohol misuse, security in schools, sexual health, self-harming and much more.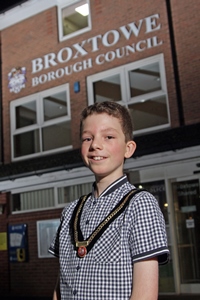 There is also a Youth Mayor elected each year. 
Mission Statement
Broxtowe Youth Voice's mission statement is:
"We are Broxtowe Youth Voice. We strive to make a change in our local community by ensuring we listen to the voices of Young People. We aim to tackle problems including discrimination, radicalisation and decreasing the voting age to sixteen. As Young People of Broxtowe, we endeavour to give a voice to the unheard!"
Broxtowe Youth Mayors
The current Youth Mayor is Alfie Russell, with William Mee assisting as Deputy Youth Mayor.
Youth Voice Profiles
The current members of Broxtowe Youth Voice are:
---
Alfie Russell
"I am Alfie Russell and I am the Current Youth Mayor for Broxtowe. I have many hobbies including being a member of Long Eaton Triathlon Club. During my year in office, I wish to help implement "A Curriculum to Prepare Us for Life" into Broxtowe Schools and ensure that all young people are given a way to Voice their opinions!"
---
William Mee
"Hello, I am William Mee, and I am the Deputy Youth Mayor for Broxtowe. In my time in office, I would like to create a better way for the young people to get involved in their community. Some of my interests are Swimming, Water Polo and Playing the flute and Keyboard."
---
Hannaa Hussain
"I am an enthusiastic and hard working student. I enjoy getting involved and contributing my thoughts and ideas into key topics. I am keen to undertake many opportunities and experiences that help me to grow personally and professionally by pursuing challenges that enable me to become confident and independent. I am currently studying the equivalent to three A levels in applied science and hope to pursue a career in health care professions."
---
Oliver Leask
"Hey! I'm Oliver, or Oli for short, and I'm in Year 11 studying for my GCSEs! Woohoo! I love playing and writing music, playing badminton with the Chilwell Olympians and working at Barnardo's Beeston with my friends.  I see Broxtowe Youth Voice as a great way to get involved in your local communities. I read a holocaust poem at the memorial on the memorial day in 2016, which was a brilliant first public speaking experience for me. We at the Broxtowe Youth Voice are always welcoming new members! Will you be the next?"
---
Roseina Rao
"My name is Rosie and I'm almost 15 years old. I'm from Nottingham and have grown up in the Beeston/Chilwell area my whole life. I love to play video games, such as The Legend of Zelda, Pokémon, Sonic etc. I especially love retro games.I really love writing poems and short stories. If I'm completely honest I haven't really done much towards the community and I would like to change that! I can be a little nervous and scared but I want to try and break that and give Young People the voice that they deserve!"
---
Hannah Shepherd
"My name is Hannah Shepherd and I've just turned 15. I live in Attenbrough and attend Chilwell School, which is the longest time I've ever been in a school before. I have lived in many places, including Lincolnshire, East Edinburgh and Leicestershire, going to seven schools in my lifetime. I love reading, books (Of which I have over 300), drinking tea, and attempting to write stories. I'm also a huge fan of the Fantasy genre, having read Harry Potter, Lord of the Rings, The Hobbit, and The Inheritance cycle while attempting to learn elvish. I don't really do much in the community at present, but I joined Youth Forum for that reason: To make a difference to the Youth of Broxtowe and to give a voice to people who are too afraid to use their own. I hope that I can help Broxtowe Youth and make our community even better."
---
Nathan Taylor
"Hi, I'm Nathan. I enjoy programming and karate in my spare time whilst also managing to keep on top of all my schoolwork - I'm in my final year of GCSEs. I attend Broxtowe Youth Voice because I want to be able to have a positive impact in my community and want to be able to have a say in decisions that affect me and my peers."
---
Past Youth Mayors / Deputy Youth Mayors
2016/2017 - Samaira Saleem / Yamam Alsudani

2015/16 - Ellie Sandy / Samaira Saleem

2014/15 - Jade Cox / Ellie Sandy

2013/14 - Harroun Kinoucha / Jade Cox

2012/13 - Adam Stockwell / Leigh Alder

2011/12 - Tilly Stone

2010/11 - Tilly Stone  
How to join
For more information and to join Broxtowe Youth Voice, please contact amy.beckworth@nottscc.gov.uk
---
---