Housing Annual Report
This page contains the Housing Annual Report for 1st April 2018 to 31st March 2019.
This year has seen excellent improvements take place within the Housing Department, with the launch of our NEW Independent Living Service and the Income Team moving into the Department.
Below contains a few key facts and figures of the Housing Annual Report 2018/19 (pdf) (548kb) (Opens in a New Window)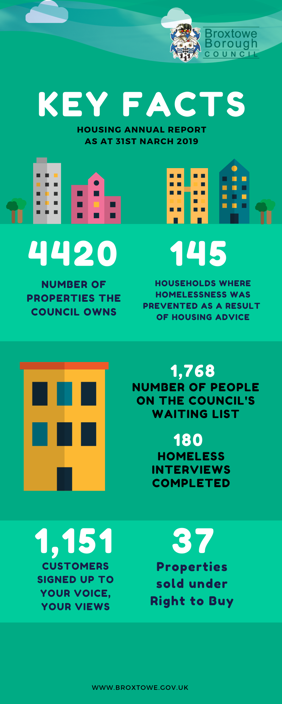 Key Facts
4420 are the number of properties the Council owns.
145 Households where homelessness was prevented as a result of Housing advice. 
1768 are the number of people on the Council's waiting list.
180 Homeless interviews completed.
1151 customers signed up to You Voice, Your View.
37 Properties sold under Right the Buy.
Money received 
In 2018/19 Broxtowe Borough Council received £16.1 million in income to the Housing Revenue Account. £15 million came from housing rents; the remainder was from garage rents, Independent Living management charges and leaseholder service charges.
Where the money was spent
£1.8 million was spent on Capital expenditure finance by Housing Revenue Account. (Includes a direct contribution from the HRA towards capital expenditure costs)
£3.2 million on Repairs and maintenance (Includes repairs costs, contractor costs, void work, electrical testing etc)
£4.6 million for Supervision and management (Includes staffing costs)
£6.3 million Charges for capital (Includes depreciation, gains/losses on disposal of properties and interest payable on borrowing)
Total cost £15.9 million. 
---
---