Cycle Network and Associated Infrastructure
Cycle Network and Associated Infrastructure
Information about the Safer Cycling Scheme, part of the £21.1m Stapleford Towns Fund.
Cycle Network and Associated Infrastructure 
We want a Stapleford where everything's within easy reach. We want to build a joined-up transport network for all, which enables more people to travel sustainably. We aim to do this through our Cycle Network and Associated Infrastructure project, which supports our ambitions to create a modal shift for connectivity into and around the town that:
Promotes positive health outcomes through walking and cycling
Cuts congestion and reduces carbon impact
Gives people the ability to meet most of their daily needs within a 20-minute walk from home, with safe cycling and local transport options
You can find out more about this scheme in our short video below.
To do this we have invested in three key projects:
1. Stapleford Cycle Hub
The Stapleford Cycle Hub opened in November 2022 to give local people free access to bicycle repairs and services.
Located at the Ilkeston Road Recreation Ground Car Park, the Hub is open every Sunday from 9am – 2pm on a drop-in basis.
A trained RideWise mechanic is on hand to offer free repairs, servicing, route planning and general advice about cycling.
The Hub also accepts donations of old bikes as the team can refurbish these and bring them back into use for others to enjoy. Many of these, as well as new bikes, are on display for sale every Sunday.
For more details about the Hub, call the team on 07874 353 999.

2. Stapleford Cycle Training Track
A new Cycle Training Track opened in April 2023 for local children, young people, adults and families in Stapleford.
The track, located on the Ilkeston Road Recreation Ground, is a fun and safe mini road network on which to learn and practice cycling safely.  It was officially opened on 3rd July 2023 by Chris Boardman MBE and attended by children from local primary schools, as well as members of the Stapleford Towns Fund board and local councillors.  
It features 600 metres of 3 metre-wide tarmac pathways for cycling and walking, a 200 metre network of mini roads, including road markings, zebra crossings, solar powered traffic lights and a roundabout, in addition to a range of road signs.

3. New Stapleford Cycle Paths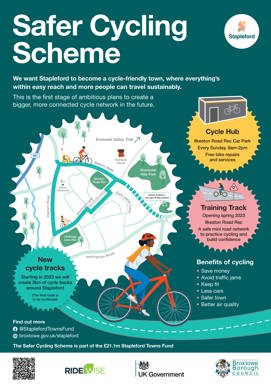 Work will start in 2023 to create 3km of new cycle paths to improve the safety of cycling and sustainable travel around the town.
This is the first stage of ambitious plans to create a more joined up, connected cycle network in the future.
More details will be shared as the plans progress.
---
---