Black-Lidded Refuse Bin
Information regarding the black-lidded refuse bin.
Please note the text service for missed bins and when is my next collection (number 60075) is currently unavailable.  Messages sent to this number will still be charged.
Your black-lidded bin is for general waste and is collected once every two weeks.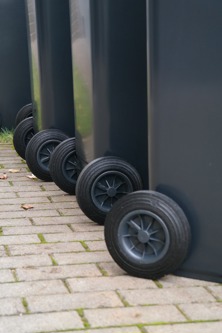 Please place your bins at the edge of the curtilage of your property by 6:30am on your bin collection day
All wheeled bins should have the lid shut to ensure the bin is safe for emptying.
We won't collect additional waste or recycling left beside your bin.
We do not collect hardcore or building rubble, you would require the services of a private contractor for the disposal of these materials.
You can find out when your collection day is by checking your bin calendar or via the when is my collection search tool.
Other Bins
You also have:
Assisted Collections
If you are elderly, infirm or registered disabled, we are able to collect your bins/bags from a specified location. Please contact customer services for further information. 
Damaged, lost or stolen bins
If your bin has been damaged, lost or stolen then the Council will replace it free of charge. All replacement bins are delivered within 5 working days.
Bins provided can be new or refurbished. They will be serviceable and clean.
If you wish for a serviceable bin to be exchanged for a new one then a charge will be incurred. 
Additional bins
Additional black-lidded bins can be provided where the household meets certain criteria (see table below).  The service is subject to verification by an inspector and a service/delivery charge payable in advance.
Additional Wheeled Containers Sizes and Household Criteria

| No. of Residents | Children Under 5 | Black Bin Size (size - litre) | Additional Black Bin (size - litre) | Green recycling Bin (size - litre) |
| --- | --- | --- | --- | --- |
| 1 |  N/A | 140 | No | 140 |
| 2 - 4 | N/A  | 240 | No | 240 |
| 5 - 8 | No | 240 | 140 | 240 |
| 5 - 8 | Yes | 240 | 240 | 240 |
| 9 or more | N/A | 240 | 240 | 240 |
New Developments
Under the Environmental Protection Act 1990, the Council charge developers a single payment for the first time provision of bins.
Provision of bins to newly built properties is the responsibility of the developer so if you move into a new build and there is no provision, please contact your developer.
The type of property you live in will determine what size of bin you have. Generally, the following is allocated:
Standard domestic residence – 240L bin
Multiple occupancy – up to 1100L bin
Prices
Bin Size and Cost

| Bin Size | Cost (£) |
| --- | --- |
| 240ltr wheeled bin | 72.00 (pair) |
| 1100ltr wheeled bin for residual waste | Price on application |
| 1100ltr wheeled bin for recyclable waste | Price on application |
All bins will be supplied by Broxtowe Borough Council and remain the property of Broxtowe Borough Council.

All payments must be made in advance  prior to containers being delivered.
---
---