Friday18
Friday18 is back for the summer 2023 with more musicians and more dates!
Date
16/06/2023
Time
6:00 PM - 7:00 PM
This event occurs Weekly every:
Friday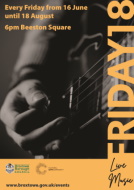 Description
Following the success of last year's Friday18 programme, it's back this summer starting on Friday 18 June at 18:00hrs at the band stand in Beeston. Enjoy and hour of free music from local artists, bring along your own chairs and listen to a mixture of bands and solo artists before enjoying the local restaurants, bars and cinema of Beeston Town Centre.
Venue
The band stand in Beeston Square.
events@broxtowe.gov.uk
---