The Great Christmas Cracker Heist - Afternoon Performance
The Great Christmas Cracker Heist
A comedy by Jamie Lakritz.
Date
19/11/2022
Time
2:30 PM - 5:00 PM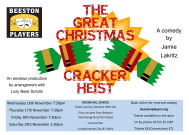 Description
Beeston Players next production is in November. The play is a comedy thriller by Jamie Lakritz and is called The Great Christmas Cracker Heist. Everyone at DG Crackers is looking forward to their Christmas bonus, and the staff party. But things aren't going as well as they seem at DG, so the staff take steps to get the money they're banking on. There will be a licensed bar and complimentary tea and coffee.
Venue
Round Hill School, Foster Avenue, Beeston, NG9 1AE.
beestonplayerssecretary@gmail.com
Address
WQHJ+2G Nottingham, UK
See on map
---