Broxtowe Green Festivals
Information on the upcoming Green Festivals which are happening in Broxtowe

At Broxtowe Borough Council we are delighted to announce dates for four festivals taking place this year.
Each event will feature interactive managed stalls showcasing what people are doing locally to tackle climate change and protect our green spaces.
Visitors will be able to learn from leading experts about Recycling, Composting, Climate Change, Wild flowers, Biodiversity and so much more! All the events are free to attend.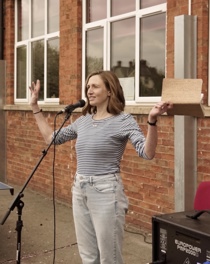 Next Festival
24 September 2022, 12.00pm-3.00pm at Hall Om Wong Open Space, Kimberley 
Join us for our fourth and final Green Festival of 2022 which will take place at Hall Om Wong Open Space, Kimberley. There will be a range of Nottinghamshire-based organisations and stallholders who specialise in sustainability and they will be able to provide invaluable advice to attendees on small changes we can all make to reduce our carbon footprint and make big changes together.
This festival will take place during Recycling Week 2022, which will run between 19 – 25 September. The theme of this year's recycling week is 'Let's get real about recycling', which urges us to carefully check which items we are throwing away and make us aware of common items that are incorrectly disposed of, such as plastic film and microwave ready meal trays. Look out for our Environment Team who will have their own stand and will be available for any questions and advice on avoiding contamination, helping us work together to recycle correctly.
There will also be activities for all ages including:
Interactive stalls on how Broxtowe locals are combatting climate change
Food
Music
Activities for children
---
Past Festivals
6 August 2022 at Pasture Road Recreation Ground, Stapleford – co-produced with Stapleford Town Council
Our Stapleford Green Festival saw an incredible turnout with over 300 attendees – it was fantastic to see how passionate Broxtowe residents are about supporting our low-carbon initiatives and how families and individuals engaged with stallholders and sustainability experts.
18 June 2022 at Colliers Wood, Moorgreen - supported by Friends of Colliers Wood
Our second Green Festival of the year at Colliers Wood was well received and attended. The event featured interactive stalls showcasing what people in Broxtowe are doing locally to fight climate change and protect our green spaces. As part of the event there was also a live log carving and a 'BioBlitz' in which visitors could identify species of plants and animals along with a bat walk and moth trapping.

23 April 2022 at Round Hill Primary School, Beeston - co-produced with the Green Umbrella community group
Over 600 people attended our Green Festival at Round Hill Primary School in April. The day was a great success with Broxtowe residents demonstrating just how passionate they are about working to actively tackle the climate crisis.
---
---