Parks & Open Spaces
Parks & Open Spaces COVID - 19 UPDATE 2021. Our Parks & Open Spaces remain open to the public. The play areas are open but with restrictions as to how they are to be used. The tennis courts , outdoor gyms , skate parks and multi-use games areas are closed.
The latest Government Guidance on accessing green spaces safely is detailed below.
Members of the public should minimise the time spent outside their home, but can leave their home to exercise. This should be limited to once per day, and they should not travel outside their local area.
You can exercise in a public outdoor place:
• by yourself
• with the people you live with
• with your support bubble (if you are legally permitted to form one)
• in a childcare bubble where providing childcare
• or, when on your own, with one person from another household

Read the full Government guidance on accessing green spaces safely (Opens in a New Window).
Find out more about Broxtowe's Parks and Open Spaces, where they are and what you can do in them.

Here in Broxtowe we are proud of our parks. With 51% of our green space being Local Nature Reserves and many play areas, recreation grounds, and open spaces throughout the Borough; we want our residents to enjoy the beautiful green space in Broxtowe.
---
Find out more

Find out more about the different parks in your area. We've got a comprehensive list of all of the parks, open spaces, recreation grounds, and play areas located throughout the Borough so you can find and enjoy them to your heart's content.
---

Every year there are fun fairs throughout Broxtowe. Find out more about when and where they're taking place.
---

Do you fancy discovering the great outdoors with a difference? There are over 100 geocaches hidden throughout the Borough. Can you find them all?
---

The Council provide a range of facilities at our parks and recreation grounds for people to enjoy many different sports and activities. From Skate Parks to Cricket Pitches, Tennis Courts to Football Ptiches, and Bowling Greens to Multi-Use areas; there will be somewhere in the Borough for you.
---

We maintain nearly 50 Parks and Recreation Grounds, as well as over 80 hectares of publicly accessible open space including 15 Local Nature Reserves, and 5 cemeteries which can be used for filming. Find out more about what you need to do if you want to film on our land.
---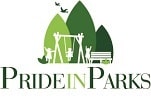 In March 2018, Broxtowe Borough Council approved £500,000 worth of investment in Broxtowe's parks and open spaces.  £250,000 was approved for 2018/19, with an additional £250,000 approved for 2019/20. Find out more about the projects that are benefiting from Pride in Parks.
---
---