Garden Waste Collections
Information about the garden waste collection service
Pay online
Re-new your subscription online
---

Reduced Winter Garden Subscription Fee
If you haven't done so already why not take advantage of reduced winter subscription fees for our garden waste collection service. As collections move to monthly between December and February, you can sign up now for the remainder of the 2017/18 season at a reduced rate of £26. Additional bins are available for £6 each.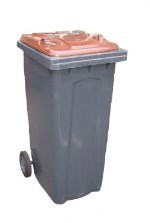 Customers will receive a calendar detailing their winter monthly collections in November 2017.
Why has the service changed?
The cost of the service has not changed over the last 3 years. Unfortunately the annual subscription fee has had to increase by £1 due to the rising costs associated with providing the collection service.
In order to reduce collection costs and to keep any price increase to an absolute minimum, we have changed collections to monthly during the months of December, January and February inclusive. Historically this is when the amount of garden waste collected reduces by more than half. Therefore residents should still be able to put all their garden waste in he brown-lidded bin and not be affected by a monthly collection frequency.
How to Join
You can pay for the service:
Online is the quickest and easiest way to pay using the garden waste form

For single and multiple bin payments using a debit or credit card call the contact centre on 0115 917 7777 and select option 4 followed by option 1

ATP (Automated Telephone Payment) This is for single payments only using a debit card. Call FREEPHONE 0845 835 0144 and select option 8 and enter your subscription reference number which can be found on the front of your garden waste subscription letter
---
I don't have a lot of garden waste. Can I share a garden waste bin with one of my neighbours?
Yes, you can share your garden waste bin, however we accept no responsibility for personal agreements made between neighbours. We will need the address of one of the properties to log on our system when payment is made. That same address will be on the sticker to be attached to the bin and the bin must be placed outside the property which has subscribed to the service.
---
Important garden waste information!
Please remember that your garden waste will be collected on the same day as your green-lidded recycling bin.
If it is not emptied use the 'Missed bin collection' page to find ways to report a missed bin.
The Benefits of the Garden Waste Service
Collections are all year round

Offers a hassle-free solution in comparison to taking your garden waste to the Local Household Waste and Recycling Site

Offers a sustainable and environmentally friendly alternative to garden waste disposal
The Service
Collections for garden waste run fortnightly from March through to the end of November and then monthly during the months of December, January and February. Collections take place on the same day as your green-lidded bin. All bins should be out by 7am, with their bins lids closed. No side waste will be taken.
Details of Terms and Conditions and can be found by clicking on the relevant link.
What can go in the Brown-Lidded Bin?

---
---