Glass Collection
To extend the life of your bag and to avoid deterioration from sunlight and the weather, please store your bag under cover. Please note glass will only be collected from the kerbside in the bags that we supply.

You can order more bags by clicking on the image above.
Red-lidded glass bin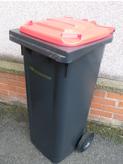 You can now purchase the use of a 140l red-lidded glass bin for a one-off administration and delivery charge of £26. In order to obtain a bin you will need to pay first and you can do this by calling the contact centre on 0115 917 7777.
How does the scheme work?
Your glass bag/red-lidded bin is emptied on a 4 weekly cycle and can be used to store all types of glass bottles and jars.
All colours can be mixed together, there is no need to separate.
Please remove any lids and rinse out before placing in the bag.
Put your bag/red-lidded bin out on your relevant collection day, by 7am.
What can be recycled using the kerbside glass bag
What can and cannot be recycled for the Glass Collections

| Yes Please | No Thank you |
| --- | --- |
| Beer bottles | Light bulbs |
| Glass bottles | Broken glass |
| Wine bottles | Drinks glasses |
| Spirit bottles | Spectacles |
| Sauce bottles | Window glass |
| Jam jars | Pyrex |
| Pickle jars | China |
| Medicine bottles | Fluorescent tubes |
What happens to the glass? 
The glass collected from your house will be taken to the Council's Work depot at Kimberley. The material is then bulked and taken to the glass processor.  
The glass will then be recycled into more bottles and jars or it is used as an aggregate for road building.
---
---