Recycling Bin
What can be recycled in your green-lidded recycling bin and glass bag or red-lidded bin.
Please note the text service for missed bins and when is my next collection (number 60075) is currently unavailable.  Messages sent to this number will still be charged.
What is Recyclable in Broxtowe
Broxtowe borough council are part of a county wide contract with Nottinghamshire county council and Veolia.  Therefore Broxtowe recycle items based on what can be processed at the Materials Recovery Facility in Mansfield (MRF) (Opens new window).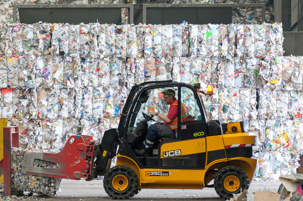 Various food packaging may indicate their product packaging is recyclable, however it is best to go along with the guidance on this page on what is recyclable for Broxtowe.  The bin stickers are the most accurate way to see what can go into your green lidded bin. 
If the item is not on this list, then it should go into the waste bin.   
It is hoped that in the future both the technology and the markets for recycled plastics will come into fruition, enabling a much wider spectrum of plastics to be recycled.
When is my collection?
Your green-lidded recycling bin is collected once every two weeks. It can be used to recycle certain mixed paper and card, plastics and tins.  All items must be placed loose in the green-lidded recycling bin and should not be bagged.
Your collection days can be found on your bin calendar or via the When Is My Collection search (Opens in a New Window).
Please place your bins at the edge of the curtilage of your property by 6:30am on your bin collection day
All wheeled bins should have the lid shut to ensure the bin is safe for emptying.
Do you recycle a lot?
Residents can have the use of up to 2 free green-lidded recycling bins. Order an additional recycling bin using our online Additional Bin Request Form (Opens in a new Window).
What can go in the green-lidded bin?
Mixed Paper and Card Recyclable Items

| Can Recycle | Can't Recycle |
| --- | --- |
| Paper and cardboard  | Carbon/plastic/waxed paper |
| Telephone directories and catalogues | Laminated paper |
| Envelopes (includes windowed) | Padded envelopes |
| Newspapers/magazines/junk mail | Tissues |
|   | Paper and kitchen towels |
|   | Food residue |
|   | Cartons |
|   | Shredded paper |
Food tins and Drink cans - Please rinse cans before recycling

| Can Recycle | Can't Recycle |
| --- | --- |
| Food tins | Foil |
| Drink cans | Metal screws/bolts/pipes |
| Empty aerosol cans | Oil and paint tins |
|   | Chemical containers |
|   | Large metal sweet tins |
Plastics Recyclable Items - Please wash and squash before recycling

| Can Recycle | Can't Recycle |
| --- | --- |
| Milk and drinks bottles | Plastic bags/bin lines/cling film |
| Cleaning product bottles | Food trays/fruit punnets |
| Beauty product bottles | Polystyrene |
| Yoghurt pots and margarine tubs |   |
| Plastic bottle lids |   |
---
These are NOT allowed in the green-lidded bin:
Glass

Clean foil and foil trays

Ice-cream tubs

Carrier bags

Polythene

Polystyrene

Toys

Plant pots

Kitchen roll

DIY items

Plastics food trays

Empty pizza boxes

Tissues

Clothing

Hose pipes

Polystyrene food trays

Beverage Cartons

Sweet/biscuit tins
---
---