Queen Hunt
Can you find the Queen's head?
Date
31/05/2022
This event occurs Daily from 31 May 2022 to 05 Jun 2022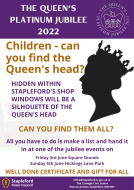 Description
For the Queen's Platinum Jubilee - can the children of Stapleford find the Queen's head? Hidden within Stapleford Shop windows will be a silhouette of the Queen's head, can you find them all? All you have to do is make a list and hand it in at one of the jubilee events on Friday 3rd June or 5th June. A well done certificate and gift for all.
Venue
Stapleford.
office@stapleford-tc.gov.uk
Address
See on map
---