Brinsley Parish Council Surgeries
Parish Council surgeries extending an invitation to parishioners to visit the Parish Hall and discuss community matters or issues with Members of the Parish Council.
Date
03/01/2022
Time
2:00 PM - 4:00 PM
This event will also happen on the following dates:
Monday 03 Jan 2022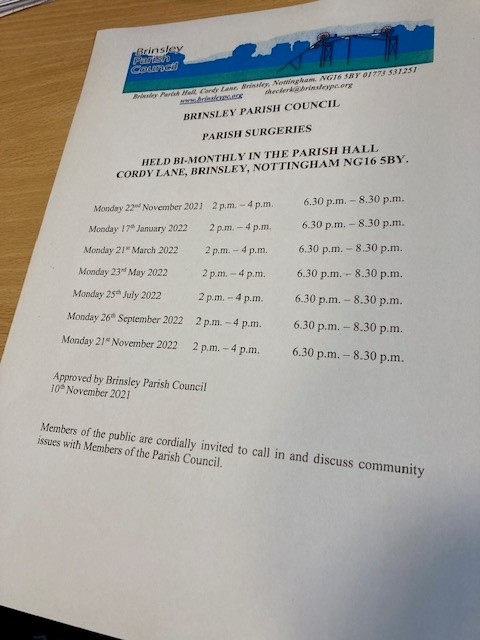 Description
Brinsley Parish Council surgeries afternoon and evening dates to provide a venue for residents to visit and discuss local matters. Monday 22nd November 2021 Monday 17th January 2022 Monday 21st March 2022 Monday 23rd May 2022 Monday 25th July 2022 Monday 26th September 2022 Monday 21st November 2022 All taking place between 2.00 p.m. to 4.00 p.m. and 6.30 p.m. to 8.30 p.m.
Venue
Brinsley Parish Hall Cordy Lane Brinsley Notitingham. NG16 5BY
theclerk@brinsleypc.org
Address
Cordy Ln, Brinsley, Nottingham NG16 5BY, UK
See on map
---