Free Bike Maintenance drop-in
Come and get your bicycle serviced free-of-charge by a trained mechanic and team. Find us just outside the centre, working from 10am-3pm on a first-come-first-served basis. Make sure to grab a coffee and cake or lovely meal from inside!
Date
17/02/2022
Time
10:00 AM - 3:00 PM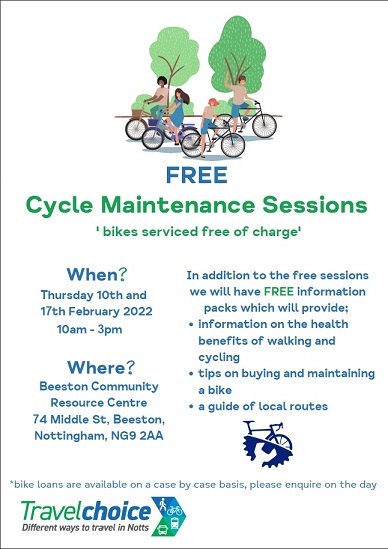 Description
Bring your bike to Beeston Middle Street Resource Centre and our team will have a look at it. If it's in need of a bit of TLC, we'll get it ship-shape for you! Find us outside the front of the centre (under the canopy, in case of rain) from roughly 10am-3pm, serving the community with free bike repairs for all-comers, on a first-come-first-served basis. Minor repairs can be made, if possible, and low-cost parts can be replaced, if necessary. Anything complex or expensive will be advised on only. Have a chat to our friendly mechanic team, and make sure that you grab a coffee and cake or tasty meal from the fabulous staff in the centre, bicycles repaired while-u-wait! During the day, our team will be supplying travel advice focussed on being more active and getting out locally and county-wide, we are also able to offer support and advice in breaking down travel barriers to work and training, just ask.
Venue
Middle Street Resource Centre, 74 Middle St, Beeston, Nottingham NG9 2AR
peter.radford@consultant.aecom.com
Address
74 Middle St, Beeston, Nottingham NG9 2AR, UK
See on map
---