Looking after your wellbeing
Looking after your wellbeing
How to look after your wellbeing during the current Coronavirus pandemic.
Working from home, worrying about the impact of the pandemic on you and your loved ones and not being able to enjoy all of the activities you would normally be involved in can all have an impact on your health.
It is important to remember to look after yourself so here are some useful resources to help you. 
Nottinghamshire County Council also have a range of health information on their website - visit their Your health and wellbeing pages (Opens in a new window).
Mental Health
Every Mind Matters
Having good mental health is just as important as our physical health. It's completely normal to feel anxious or stressed during the pandemic but there are small things you can do to help.
We don't need to wait until we are struggling with our mental health; there are lots of things we can do to protect ourselves and prevent problems escalating, just as we do with our physical health.
Every Mind Matters has put together some tips on looking after your mental health during the coronavirus outbreak, and suggest that you should:
plan practical things
find out about your employment situation
stay connected with others
talk about your worries
look after your body
stay on top of difficult feelings
avoid staying glued to the news
do things you enjoy
take time to relax
look after your sleep
think about your new daily routine
keep your mind active
support children and young people with their mental health
Find out more on the Every Mind Matter website (Opens in a New Window)
Support Organisations
Mental health helpline
The Nottinghamshire Mental Health Helpline is available 9am -11pm seven days a week for anyone who needs emotional support or information about what help is available locally for people struggling with their mental health. Professionals are also welcome to call the helpline for advice on working with patients with mental health issues. 
Talking therapies
Across South Nottinghamshire, people can access Talking Therapies services, which can help you if you're suffering with issues like depression, anxiety, panic, phobias, obsessive compulsive disorder (OCD) and stress.
You can contact services directly:
Mental health crisis helpline
Nottinghamshire Healthcare Foundation Trust has launched a new mental health helpline for local people in crisis.
The helpline number is 0300 303 0165 and is available to anyone in mental health crisis at anytime, anywhere across Nottingham and Nottinghamshire.
Available 24 hours a day, seven-days a week, it's the number to call if you are experiencing a mental health crisis and need immediate help. It's open to people of all ages who need urgent mental health support.
Emergency Duty team (County)
Telephone: 0300 456 4546
The Emergency Duty Team (EDT) is there for anyone in Nottinghamshire who feels they are in crisis. The service operates only outside usual office hours.
We are open:
Monday to Thursday 5.00 pm to 8.30 am
24 hours at weekends from 4.30 pm
Friday to 8.30 am Monday
24 hours during all public holidays
We are not open during normal office hours.  At these times, and for any calls that are not  urgent, please phone the County Council on  0300 500 80 80.
NHS Direct
Helpline: 111
National nurse-led helpline providing medical advice, non-emergency helpline. 24/7
Harmless
www.harmless.org.uk
Monday – Friday 9:00am – 5:00pm
Harmless is a user led organisation that provides a range of services about self harm including support, information, training and consultancy to people who self harm, their friends and families and professionals.
Further information
You can find links to further Mental Health Support Organisations on our Mental Health webpage.
---
Physical Health
Better Health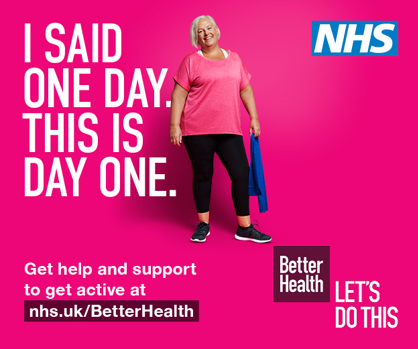 COVID-19 has  prompted many people to reflect and think more seriously about their health. What's more, people have been surprised by how able they have been to change their behaviour, with lockdown showing many that they are able to make and sustain changes to their lives.
Nearly two thirds (63%) of adults in the UK are overweight or living with obesity.
Gaining weight is often a gradual process that takes place over a number of years and modern life doesn't always make it easy. But this extra weight causes pressure to build up around vital organs, making it harder for the body to fight against diseases like cancer, heart disease and now COVID-19. By reducing your weight within a healthy range, you can cut your risk of being critically ill with COVID-19.
To support people to live healthier lives, Public Health England's Better Health campaign will provide a variety of tools and apps to help you make healthier food choices, become more active and prevent future weight gain.
It has also been shown that moving more and eating more healthily can positively impact on your mental health.
Find out more about losing weight, getting active, stopping smoking, drinking less and more on the Better Health website (Opens in a new window)
Stay Well This Winter
Flu Jabs
The flu virus kills thousands on an average year, but this is anything but an average year. The vaccine is the best protection. Help us help you protect against flu.
Flu is a serious condition that kills thousands and hospitalizes thousands more in England each year. The flu vaccination is the best protection for you and those around you which is why it is offered for free for those most at risk.
Adults at high risk from flu are also most at risk from COVID-19 and the free vaccine is more important than ever, to help protect the nation from a double threat this winter.
That's why this year, the free flu vaccine is being offered to a record number of 30 million people to help protect as many as possible from flu and ease pressure on the NHS and urgent care services. Ask your pharmacist or GP if you're eligible for a free flu vaccine. If your child is at school and aged 4-11-year-old make sure you sign and return the consent form.
Visit www.nhs.uk/fluvaccine (Opens in a new window) for more information
Other ways to stay well this winter
Find out more about how you can stay well this winter on the NHS Stay Well website (Opens in a new window).
---
Social Wellbeing
Good relationships are important for your mental wellbeing and we need to adapt our relationships to social distancing and working from home methods. Good relationships can:
help you to build a sense of belonging and self-worth
give you an opportunity to share positive experiences
provide emotional support and allow you to support others
There are lots of things you could try to help build stronger and closer relationships:
If possible, take time each day to be with your family, for example, try arranging a fixed time to eat dinner together.
Try switching off the TV to talk or play a game with your children, friends or family.
Have lunch in the outdoors and watch the world go by.
Help a friend or family member who needs support or company through befriending phone calls.
Get to know your neighbours and have regular 'drive-way chats' from a safe distance.
Volunteer for a community group. Visit the Government's volunteering website (Opens in a new window).
Make the most of technology to stay in touch with friends and family. Video-chat apps like Skype and FaceTime are useful, especially if you live far apart.
Search and download online community apps on the NHS apps library (Opens in a new window).
---
Crimestoppers
tel: 0800 555 111
Broxtowe Borough Council
tel: 0115 917 7777
---