Open For Business
Information for businesses on getting COVID-secure and advice for residents on shopping safely.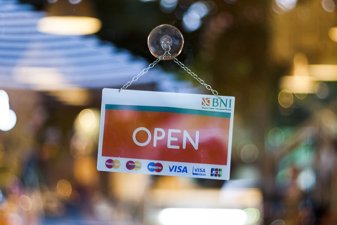 Work is well underway to prepare Broxtowe's high streets to re-open safely.
Whilst some businesses have been able to adapt and offer alternative ways of shopping already, Monday 15th June saw the remaining 'non-essential retail' businesses able to reopen on the high street. Further hospitality businesses to include pubs, bars, cafes and restaurants, as well as some 'close contact' businesses will be able to reopen from Saturday 4th July. This is  providing those businesses have read the latest Government guidelines and have ensured they are "COVID-19 secure".
Broxtowe Borough Council has also been working with Nottinghamshire County Council to install signage in its four town centres and other smaller shopping areas, to help shoppers and businesses adhere to social distancing guidance. Shops who have completed risk assessments allowing them to reopen will be required to display signage to show customers they are COVID secure.
Please be aware that COVID-19 secure businesses may still be operating different opening hours to what you may be used to.
---
Guidance for businesses
Businesses will only be able to open once they have completed a risk assessment. This must be in consultation with trade union representatives or workers and show are confident they are managing the risks. They must have taken the necessary steps to become "COVID-19 secure" in line with the current Health and Safety legislation and Government guidance.
To assist with becoming "COVID-19 secure", a document  has been produced  by the Council, 'Guidance on Re-opening Retail Shops' and can be downloaded here - Guidance on Re-opening Retail Shops (Opens in a new window). 
All businesses in Broxtowe are also required to download and read the latest Government guidance on becoming "COVID-19 secure" for their respective businesses type. A contents of all the different businesses types and the relevant guidelines can be found at  Guidance for businesses - Working Safely During Coronavirus (COVID-19) page (Opens in a new window)
After reading the most relevant guide, businesses must display a sign stating they confirm to have complied with the Governments '5 steps on managing risk' on reopening, as well as other tailored guidance to their specific business operations.  A copy of the sign can be found within each guide for completion and printing.
The latest guidance published on Tuesday 23rd June, with some updates in anticipation of the 4th July reopening include:
Food businesses can sign up to get further food guidance updates on the Government's Coronavirus food businesses webpage (Opens in a new window).
Businesses can also access further guidance on 'Fire Safety for Business' and what checks they can do in the process of reopening of premises. View the Nottinghamshire Fire and Rescue Service website (Opens in a new window).
Businesses NOT PERMITTED to open from 4th July 2020
Nail bars, Beauty salons and Spas remain closed to the public.  Please note,  that where a businesses may offer hairdressing services in the same premises as other 'close contact' beauty treatments and massage, ONLY the hairdressing services may be offered, otherwise the business premises must remain completely closed. Furthermore, only hair on the head is to be cut or treated on the reopening of Hair Salons and Barbers. Beard cutting and other body hair removal/treatment, must not be carried out under the latest Government guidance. 
Massage, tattoo and piercing parlours, night clubs, bowling alleys, indoor soft play and swimming pools , gyms and other indoor fitness, exhibition and conference centres, must all remain closed. 
More guidance on the definitions of businesses that must remain closed can be found at www.gov.uk/government/publications/further-businesses-and-premises-to-close/further-businesses-and-premises-to-close-guidance (Opens in a new window)
Supporting businesses
The Council has been supporting businesses through financial grants and assistance schemes – more information and how to apply is available on our Support for businesses page.
The Council is also preparing plans for how £101,458  from the Government's Re-opening High Streets Safely Fund will be spent in the Borough and will be engaging with businesses and residents on this in the coming weeks.
---
Guidance for residents
Residents visiting the town centres are asked to do the right thing to protect themselves and others by:
---
Staying up to date
The easiest way to stay up to date with the Council's updates is:
Further information
---
Crimestoppers
tel: 0800 555 111
Broxtowe Borough Council
tel: 0115 917 7777
---